Imagine This! Newsletter
September 2022

I'm having a blast visiting our Rotary Clubs in the District! It's amazing to me how clever and creative our clubs are. Going forward this year, I'm featuring a few great ideas I've picked up from my visits and sharing them with you. I want everyone to know about them and I offer them as terrific ways to expand Rotary's reach and increase our impact. Maybe they will spark and idea for your club. Here they are, under the heading of my newsletter title—Imagine This!

Imagine This! The Algona Rotary Club purchased a portable stage on wheels several years ago, and use it as a great public image tool for their community, AND for the surrounding area. It's used whenever their club or community has an outdoor event, and they rent it out to surrounding communities and organizations. Not only is it a great public image tool, but also is a revenue-producer for their club. Way to go, Algona Rotary Club!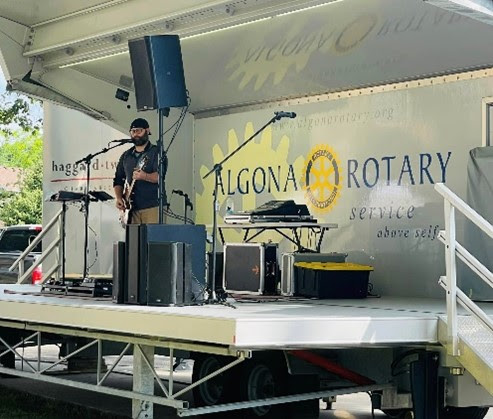 Imagine This! At their recent fundraising event, the Maquoketa Rotary Club used placemats that featured the 4-Way Test. What a great way to let all who attended the event know what Rotary's values are! Nice work, Maquoketa Rotary Club!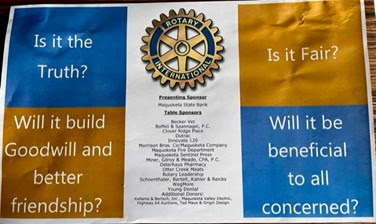 Imagine This! The Clear Lake Rotary Club uses a handy post card to hand out to prospective members. I like how the front side describes Rotarians. It's who we are. Hats off to the Clear Lake Rotary Club!
Front Side Back Side
And finally, Imagine This! The Mason City Sunrise Club is sponsoring a new Interact Club at Newman Catholic High School in Mason City. Rotarian Lynn Ptacek is the club advisor, and pictured below are two students leading the club—Annie Knipper and Sydney Andersen. Also pictured are Rotarians Dennis "Chuck" Burke, along with Rotary Club President Theresa Price, and ADG Dick Moeller from Waverly. Congratulations, Mason City River City Sunrise Club!
Keep up the great work, District 5970 Rotarians!

Remember to save the date for our District Conference next April 21-22 at Wartburg College in Waverly, Iowa. We can't wait to see everyone there!

Don Meyer
District Governor 2022-23